Shelly-Ann Fraser-Pryce celebrates her 100m win at the Wanda Diamond League in Lausanne (© AFP / Getty Images)
Shelly-Ann Fraser-Pryce arrived in Lausanne insisting that her best times were still ahead of her. The 34-year-old Jamaican pocket rocket proved as good as her word when it came to the feature race of the Athletissima Wanda Diamond League meeting in the Stade Olympique de la Pontaise, running the 100m race of her life to eclipse her burgeoning compatriot Elaine Thompson-Herah with a stunning 10.60 (1.7m/s) clocking.
On a night when the wind whipped off Lake Geneva to trouble many a newly-crowned Olympic champion, Fraser-Pryce got off to her customary bullet start, then ran like the wind to render Thompson-Herah's charge from halfway worthy of only the runner-up spot with 10.64.
Happily, the wind gauge was within the legal limit, allowing Fraser-Pryce to improve the lifetime best she set on home ground in Kingston in June by 0.03 and add some gloss to the third spot she holds on the world all-time list - behind the 10.49 Florence Griffith-Joyner recorded at the 1988 US Olympic trials in Indianapolis and the scorching 10.54 that Thompson-Herah ran at the Diamond League meeting in Eugene last Saturday.
It was a stunning turnaround, with the spotlight on Thompson-Herah and the prospect of her threatening Griffith-Joyner's 33-year-old global mark on the back of her Eugene performance and her 10.61 Olympic record win in Tokyo.
Having finished a distant second in both races, Fraser-Pryce – the four-time world and two-time Olympic 100m champion – now finds herself firmly in the frame as the Jamaican rivals look to update the record books.
"Believe it or not, I still have not run my best race," the veteran sprint queen maintained afterwards. "I know there is more to give because I still need to work further on improving my technique.
"There will be more from me this season, and certainly my goal is to break into the 10.5 range."
It was Fraser-Pryce's 21st sub-10.8 clocking and her first win against her Jamaican teammate since the Jamaican Olympic trials in late June, when she emerged victorious from both the 100m and 200m.
Thompson-Herah confessed: "My body is feeling tired after a long season and especially after having done four personal best times in a month. That's amazing, for sure.
"I have no plans to break the world record and I never thought of getting so close. I'm simply going to continue working hard, finish the season strong and come back even stronger next season."
As in Tokyo, and indeed in Eugene, Shericka Jackson completed a Jamaican 1-2-3. Three other women dipped under 11 seconds, Marie-Josee Ta Lou matching her own Olympic placing with fourth in 10.94, Briton Daryll Neita equalling her personal best with 10.96 in fifth and Ajla Del Ponte winning the battle of the Swiss with sixth place in 10.97, ahead of compatriot Mujinga Kambundji (11.01).
The chilly, windy conditions – similar to the opening Diamond League meeting in Gateshead, only minus the unrelenting rain – produced several upsets for Tokyo gold medal winners, Mondo Duplantis and Hansle Parchment failing to make the top three in their events.
Like the inspired Fraser-Pryce, though, Olympic triple jump champion Yulimar Rojas made light of the conditions, showing her class with not one but two Diamond League records.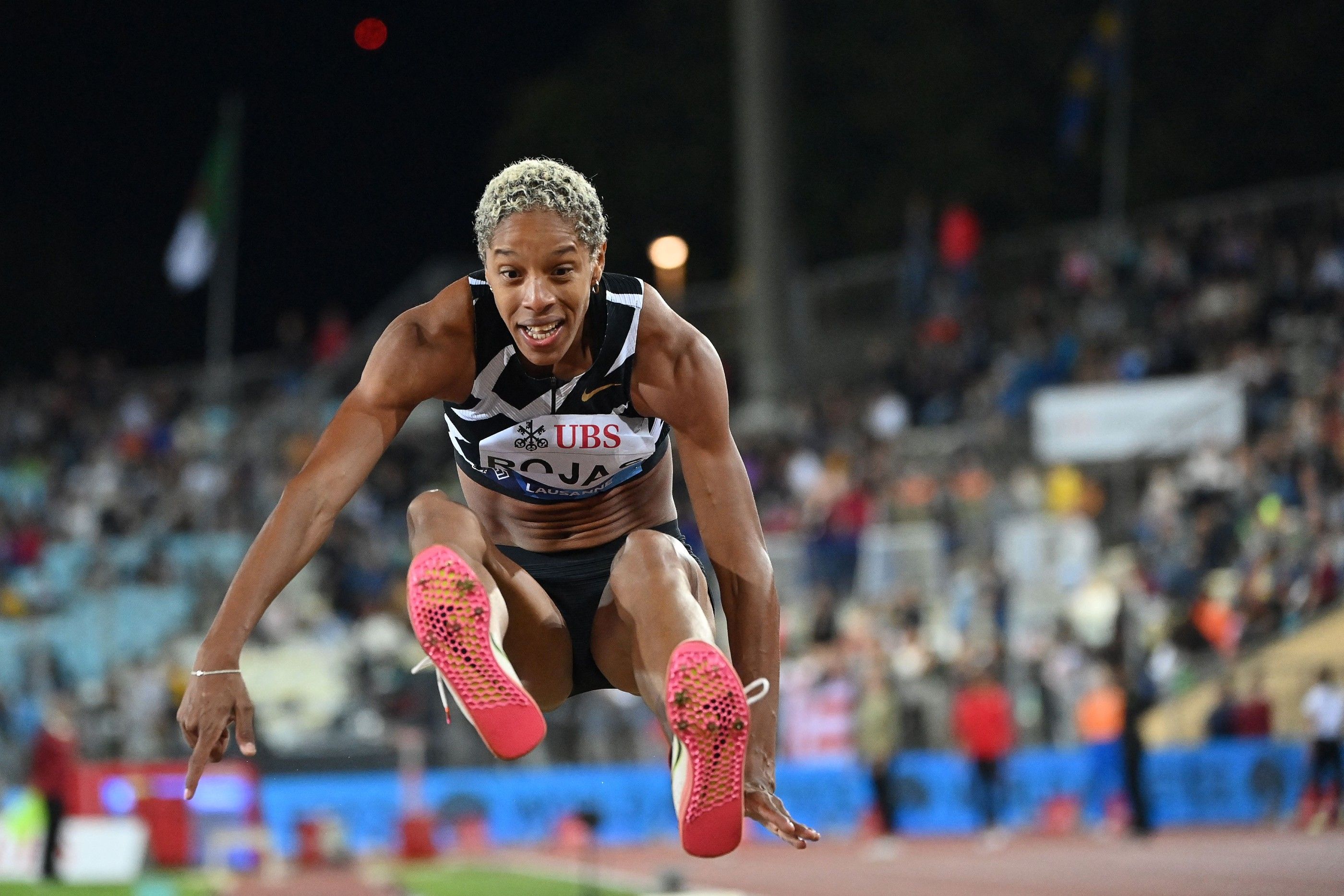 The Venezuelan was unable to better the 15.67m world record she set in Tokyo but she suspected she might have done so as she leapt out of the pit and almost halted 3000m leaders Stewart McSweyn and Jakob Ingebrigtsen on the backstraight of their penultimate lap.
It transpired that her 15.56m jump had been assisted by a 3.5m/s wind but Rojas still ventured beyond her old rival Caterine Ibarguen's Diamond League record of 15.31m, set in Monaco back in 2014, with legal marks of 15.42m (1.2m/s) in round three and 15.52m (0.6m/s) in round four.
She also held her nerve to win the final round top three shoot out, her 15.11m (0.5m/s) beating the 14.52m (1.7m/s) of Jamaica's Shanieka Ricketts, who jumped a windy 15.02m (2.7m/s) in round two, and Israel's Hanna Minenko, whose 12.62m (1.8m/s) was well down on her opening jump of 14.47m (1.8m/s).
"I feel like I'm in really good shape," said Rojas, who also bettered Tatyana Lebedeva's 2004 meeting record of 15.33. "I just went out today to enjoy the crowd and give the public a good show.
"Now I go back to Spain, keep training well and keep my focus before coming back to Zurich for the Diamond League final. I really think I can break my world record again in Zurich."
Ryan Crouser also managed to keep on a record roll, although a round one meeting record of 22.81m (improving his 2017 mark of 22.70m), might not rank alongside the world, Olympic and Diamond League records the Oregonian has established in recent weeks.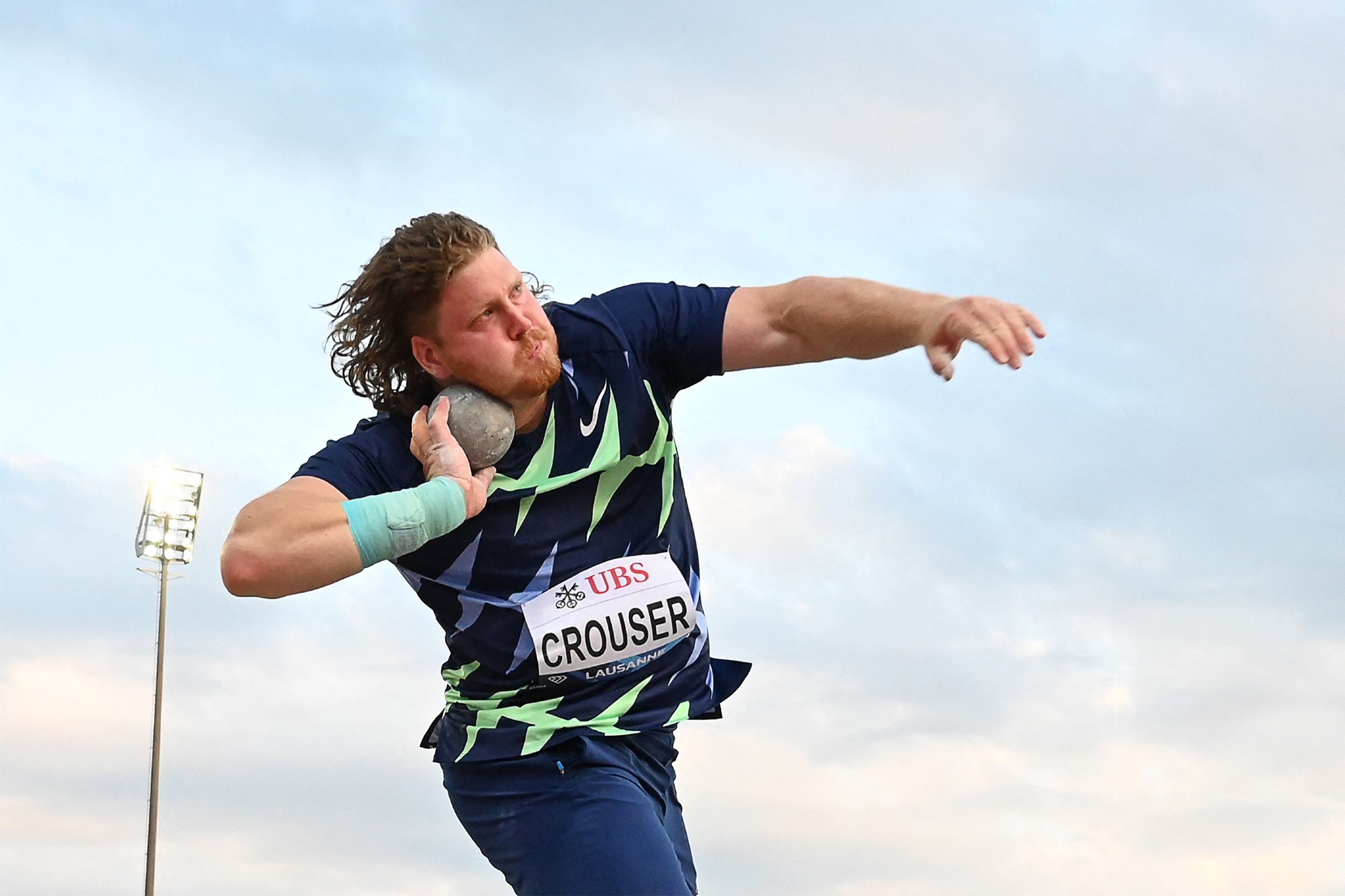 The 28-year-old maintained his consistency in tricky conditions, following up with 22.70m, 22.46m. 22.44m and a no-throw before holding his nerve and taking his win streak to 22 with a 22.64m in the top three final round shoot out (or should that be putt-off?)
Tokyo bronze medallist Tom Walsh saved his best for last, 22.10m securing second place for the New Zealander, ahead of Croatia's world indoor bronze medallist Filipo Mihaljevic, whose sixth round 20.36m was down on his fourth round 21.37m.
Serbia's Armin Sinancevic took fourth place with 21.35m, ahead of Joe Kovacs, the Olympic silver medallist and world outdoor champion finishing fifth with 21.32m.
Ingebrigtsen and Mariya Lasitskene were the other Olympic champions to claim victories.
Rojas' instinctive leap on to the track was not the only danger Ingebrigtsen had to overcome in a 3000m race loaded with six Tokyo medal winners, including himself.
The weather having rendered prospects of challenging Mohammed Mourhit's European record figures (7:26.62) null and void, the 20-year-old Norwegian was content to track in McSweyn's slip-stream after pacemakers Erik Sowinski and Vincent Kibet left them well clear of the field with 1000m remaining.
As the bell sounded, though, Berihu Aregawi, the Ethiopian who placed fourth in the Olympic 10,000m final, shot clear of the back with such speed he caught and passed the pair halfway down the back straight.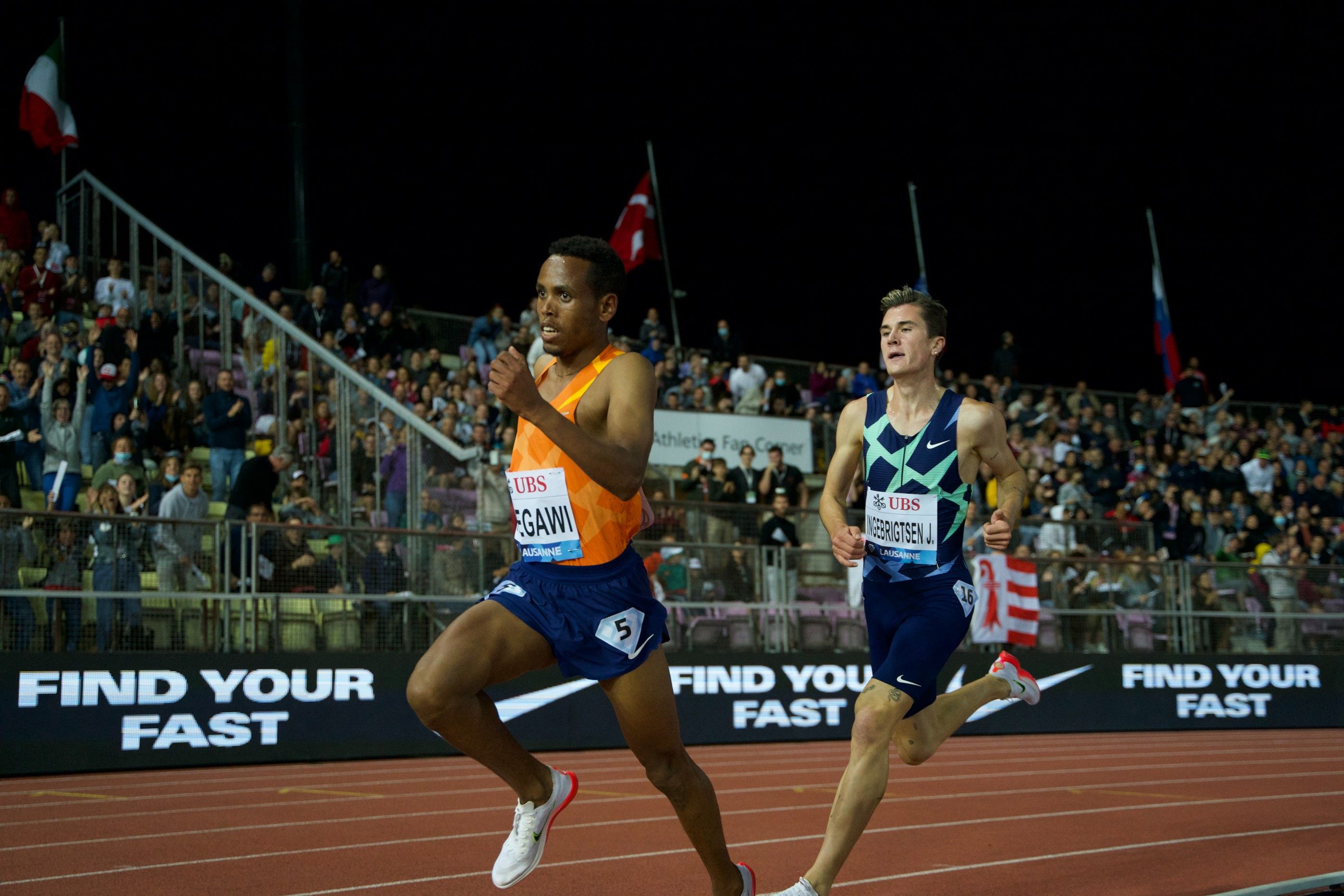 (© Matthew Quine / Diamond League AG)

Ingebrigtsen had to gather himself for a counter attack, pulling clear in the final 50 metres to win in 7:33.06, with Aregawi second (7:33.39), the Australian McSweyn third (7:35.06), Burundi's Birhanu Balew fourth (7:36.94) and Ethiopia's Olympic 10,000m champion Selemon Barega fifth (7:37.62).
"Today was a really tough race," said Ingebrigtsen. "I wanted to win really badly. When I get to the start line, I want to come first. Today was no different."
As in Tokyo, Lasitskene's winning mentality again pulled her through to first place in the windswept women's high jump. Nailing 1.98m first time edged her victory ahead of Tokyo bronze medallist Yaroslava Mahuchikh, who needed three attempts. Australia's Olympic second-placer Nicola McDermott took third with 1.95m.
Duplantis could only finish fourth in the pole vault, with just the one successful clearance, a second time attempt at 5.62m. After passing at 5.72m, the Swede registered three blanks at 5.82m.
Tokyo silver medallist Chris Nilsen's first-time clearance at the latter height earned victory ahead of his US compatriot Sam Kendricks, who required two shots to nail 5.82m on his return to competition after missing the Olympic Games due to a positive Covid test. European silver medallist Timur Morgunov was third with 5.72m.
"The wind was a challenge tonight," said Kendricks. "Mondo was not on top form but never count him out. He should be back for the next meets."
The nerves to which Karsten Warholm confessed on the eve of his venture into the barrier-free 400m proved to be well-founded as the intrepid Norseman, who reduced his one-lap hurdles world record to smithereens in Tokyo, found himself back in the land of the mere mortals.
The 2019 European indoor champion at the flat 400m produced his customary attacking performance, charging into the lead by halfway, but then started to tread water as the headwind took its toll and the specialists of the event got into something of a groove.
Wilbert London, a double relay medallist for the US at the 2019 World Championships, claimed victory in 45.17m, with Tokyo relay medal winners Isaac Makwala of Bostswana second in 45.20 and Dutchman Liemarvin Bonevacia third in 45.41.
Warholm had to settle for fourth in 45.51 – 0.64 shy of his four-year-old national record and just 0.45 quicker than his 400m hurdles world record. Thomas Schonlebe's European record, 44.33, remains a challenge for another – considerably fairer – day.
The men's 800m featured all three medal winners from Tokyo but the trio were eclipsed by the in-form Canadian Marco Arop. An impressive winner in Eugene ahead of silver medallist Ferguson Rotich and Olympic champion Emanuekl Korir, Arop took the Kenyans' scalps again.
Holding on to enough of the sizeable lead he built up to resist a challenge from Korir in the home straight, Arop crossed the line in 1:44.50 with Korir second in 1:44.62 and fellow Kenyan Rotich third in 1:44.46. Poland's surprise Tokyo bronze medallist Patryk Dobek was back in 10th, clocking 1:50.60.
Parchment brought up the rear in the 110m hurdles, the Jamaican crossing he line eighth in 13.58 as Tokyo fourth-placer Devon Allen of the USA prevailed in a windy 13.07 (2.9m/s) – from Switzerland's Jason Joseph (13.11). "Winning here means a lot to me," said Allen. "I kind of redeemed myself after Tokyo."
Missing out on a medal by one place in the Japanese capital also inspired Ivana Spanovic to victory. The Serb snatched long jump victory with a last-three last round effort of 6.73m (0.8m/s) – down on her windy fifth round 6.85m (2.3m/s).
Sweden's European indoor bronze medallist Khaddi Sagnia equalled her national record with 6.92m (0.1,/s) in round three but could only manage 6.64m (1.3m/s) in the deciding round. Britain's Jazmin Sawyers was third with 6.43m (1.5m/s).
"Of course I have extra motivation after finishing fourth in the Olympics," Spanovic conceded. "My career has been long and I have learned to bounce back from situations like this."
Hats off to Johannes Vetter for bouncing back from his Olympic disappointment, ninth in the javelin, with a deciding round throw of 86.34m. The German's best of the night was 88.54m.
Czech Jakob Vadlejch, second in Tokyo, was runner up again, throwing 79.10m in the last round (and 85.73m in the second).
There were three Olympic medallists from different distances in the top three in the wind-assisted men's 200m, Kenny Bednarek blasting home in 19.65 (3.2m/s) ahead of US team mate Fred Kerley (19.77) and 400m champion Steven Gardiner of Bahamas (20.11).
Bronze medallist Femke Bol of the Netherlands took the 400m hurdles in 53.05 with silver medal winner Dalilah Muhammad of the US down in fourth (54.50). The biggest cheer of the night, however, was reserved for Lea Sprunger. The Swiss European champion bowed out from individual competition with a fifth-placed finish in 54.75.
There were wins for the Domincan Republic's 400m silver medal winner Marileidy Paulino (50.40) and Ethiopia's Freweyni Gebreezibeher in the 1500m (4:02.24), while Britain's Ellie Baker took the non-Diamond League women's 800m in 2:00.45.
Simon Turnbull for World Athletics