Diana Kipyogei wins the Boston Marathon (© Getty Images)
Diana Kipyogei and Benson Kipruto landed a Kenyan double at the 125th edition of the BAA Boston Marathon on Monday (11), winning the World Athletics Elite Platinum Label road race in 2:24:45 and 2:09:51 respectively.
Kipyogei, contesting just her third ever marathon and her first in the Abbott World Marathon Majors series, emerged with the biggest victory of her career to date after making her break at about 29km. Kipruto, who finished 10th in Boston in 2019, waited until 35km to make his move, landing his second marathon victory of 2021. Both winners also recorded significant negative splits.
Up until Kipyogei's break, the women's race had been going at a relatively conservative pace with most of the runners in the lead pack seemingly reluctant to make a move. A large group of about 20 women, led by USA's Nell Rojas, went through 10km in 35:00 and that pace was maintained through the half-way point, which was reached in 1:14:11 with 15 women still in the pack.
Kipyogei, two-time world champion Edna Kiplagat, fellow Kenyans Caroline Chepkoech, Mary Ngugi and Monicah Ngige were among those still in the lead group at 25km, along with Rojas, Ethiopia's 2018 world half marathon champion Netsanet Gudeta and Workenesh Edesa. About 15 minutes later, though, Kipyogei started to make a break and by 30km she had a 10-second lead over the rest of the field.
Gudeta tried to make up the deficit on Kipyogei and she joined the Kenyan at about 21 miles, but Kipyogei dug in again and started to open up a gap on her Ethiopian rival.
This time it proved decisive and by 40km Kipyogei's lead had grown to 27 seconds. Further back, Kiplagat looked extremely comfortable and had passed Gudeta to move into second place, while Ngugi and Ngige were a few strides behind the top trio.
Kipyogei's lead was too great, though, and she went on to win in 2:24:45 after covering the second half in 1:10:34. Kiplagat, now aged 41, finished second in 2:25:09 while Ngugi came through for third place in 2:25:20.
"I am very happy," said Kipyogei, who set her PB of 2:22:06 when winning in Istanbul last year. "The hills were the toughest part, I kept looking over my shoulders to make sure no one was coming back."
CJ Albertson was the story of the men's race for the first 20 miles. The US runner made an early break and had opened up a one-minute gap shortly after passing 5km in 14:29, just outside 2:02 schedule.
Although his pace dropped slightly from there on, his lead over the sizeable chase pack continued to grow, passing through 10km in 29:32 and 15km in 45:01. By the time Albertson reached the half-way point in 1:04:08 – faster than his official best for the distance – his lead had grown to two minutes and 13 seconds.
But that was about as much as his rivals were prepared to give him today in Boston. The chase pack – which now comprised 16 men, including 2017 Boston winner Geoffrey Kirui, two-time Boston winner Lelisa Desisa, and Ethiopian half marathon record-holder Jemal Yimer – worked together to make up the deficit on Albertson.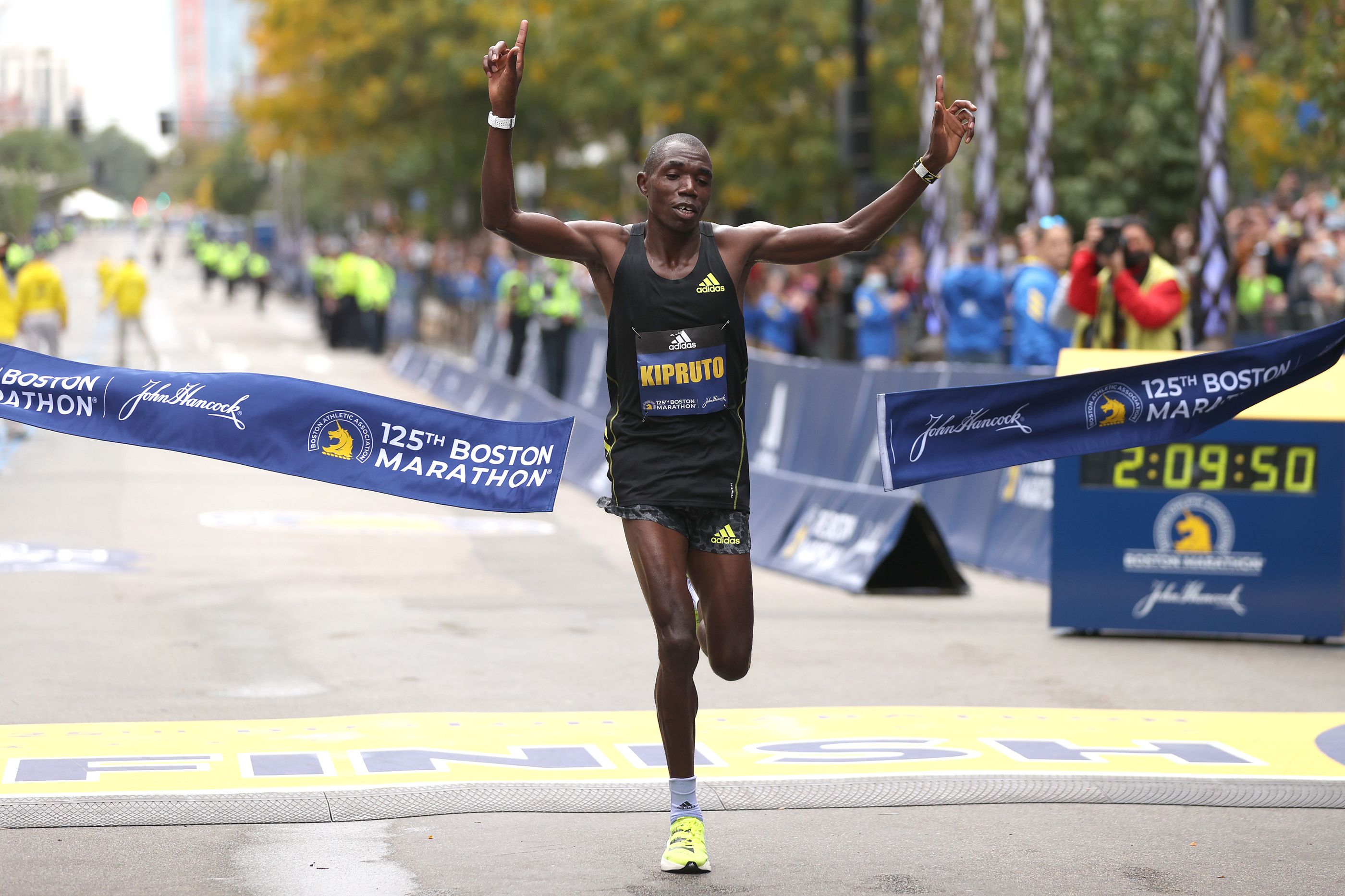 By the time Albertson reached 30km (1:33:03), his lead was down to 54 seconds. He was finally caught shortly before the 21-mile point, and just a few minutes later he had fallen off the back of the lead pack, which still had 14 men in contention.
Not long after passing 35km in 1:49:25, Kipruto put his foot down and opened up a significant gap on the rest of the pack. The Kenyan covered the next five-kilometre segment in 14:05, which stunned his opponents, who suddenly found they were some 37 seconds adrift with little more than two kilometres to go.
Kipruto – who later revealed he was unaware that Albertson had made that early break in the first half – maintained his punishing pace to the finish, eventually crossing the line in 2:09:51. Lemi Berhanu emerged from the pack to take second place in 2:10:37 from compatriot Yimer, who finished third in 2:10:38 on his debut at the distance.
"It was slower than I thought it would be as there were no pacemakers," said Kipruto. "The fans really helped, though."
It's Kipruto's second marathon victory of the year following his 2:10:16 win in Prague in May. Before this year, his only other triumph over the classic distance came in Toronto in 2018 (2:07:24); he returned to the Canadian city one year later and set a PB of 2:05:13 to finish fourth.
Jon Mulkeen for World Athletics


Leading results
Women
1 Diana Kipyogei (KEN) 2:24:45
2 Edna Kiplagat (KEN) 2:25:09
3 Mary Ngugi (KEN) 2:25:20
4 Monicah Ngige (KEN) 2:25:32
5 Netsanet Gudeta (ETH) 2:26:09
6 Nell Rojas (USA) 2:27:12
7 Workenesh Edesa (ETH) 2:27:38
8 Atsede Baysa (ETH) 2:28:04
9 Biruktayit Eshetu (ETH) 2:29:05
10 Tigist Abayechew (ETH) 2:29:06
Men
1 Benson Kipruto (KEN) 2:09:51
2 Lemi Berhanu (ETH) 2:10:37
3 Jemal Yimer (ETH) 2:10:38
4 Tsedat Ayana (ETH) 2:10:47
5 Leonard Barsoton (KEN) 2:11:11
6 Bayelign Teshager (ETH) 2:11:16
7 Colin Bennie (USA) 2:11:26
8 Dejene Debela (ETH) 2:11:38
9 Wilson Chebet (KEN) 2:11:40
10 CJ Albertson (USA) 2:11:44